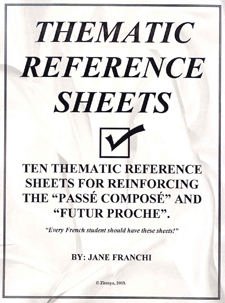 Thematic Reference Sheets" is a unit that reinforces oral French in the past and future tenses and that no French student should be without! Test driven for many years in French classes in the Junior and Intermediate divisions, this unit will have your students speaking about their personal lives in a snap! Each of the 10 thematic sheets offers a variety of activities in which most students partake and, therefore, make speaking easy and fun. If used routinely in the classroom, your students will improve their oral skills and retention levels thus improving fluency!

In this package, you will find the following thematic sheets:

1) CE WEEKEND
2) LES VACANCES D'ÉTÉ
3) L'ACTION DE GRÂCES
4) L'HALLOWEEN
5) LES VACANCES DE NOËL
6) LA SAINT VALENTIN
7) LE CONGÉ DE MARS
8) LA FÊTE DE PÂQUES
9) LA FÊTE DES MÈRES
10) MA FÊTE

To use the thematic sheets, simply photocopy a class set of the thematic sheet that you are interested in and introduce the theme well in advance of that holiday or event. Have each student add this sheet to his/her notebook. Orally review and discuss the various activities pertaining to that theme. Explain that the left hand side indicates past tense actions and that the right hand side indicates future actions. Ask the appropriate question found in the boxes at the top of the page and now wait for your answers! Your students may start off by simply stating one activity that they do and ultimately building up to 3 or 4 activities! You may also refer to the "AUTRES IDÉES" page for extension activities for your students. The possibilities are endless!

Bonne Chance!